May is Military Appreciation Month honoring everyone who has served in a branch of the U.S. military and reminds us that we owe many of our freedoms to the sacrifices made by military personnel and remembering them on Memorial Day.
As co-chair of Blue Shield of California Veteran's Employee Resource Group, I am fortunate to personally experience our veterans' stories and observe their commitment within the workplace. I am constantly amazed at the contributions they have made in their previous service as well as to our current BSC teams.
With that said, I want to share a tradition that many have adopted in the month of May, or specifically on Memorial Day to honor our fallen both on the battlefield and here at home.
It is called the Fallen Comrade Table – a table is set with an empty chair to represent a lost service member. I encourage others to set up a table at work or on your doorstep at home and hope others will participate to stop for a moment of silence and reflect upon a fallen comrade or loved one.
Sincerely, Terry Ammirati, SacVERG Events Director
Directions below: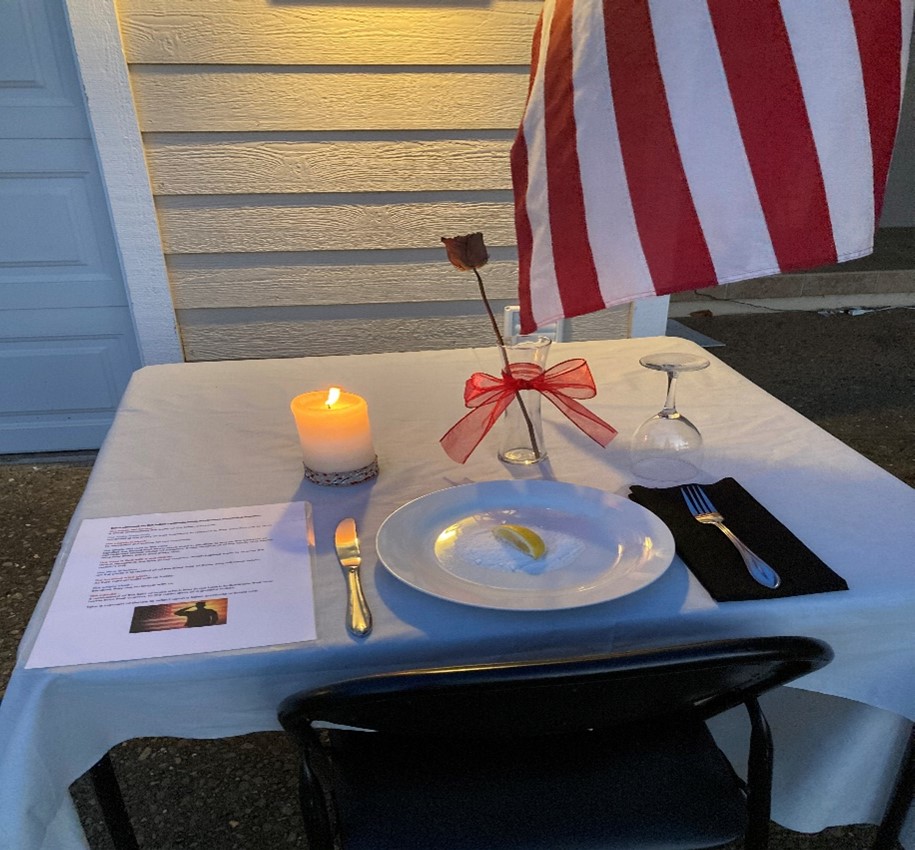 Set up your display with an empty chair, along with this list (to educate passersby) and the following items – each symbolizes something specific:
The table, set for one –
is small, symbolizing the frailty of our fallen comrade.
The white tablecloth –
symbolizing the purity of their intentions to respond to their country's call to arms.
The napkin is black –
To represent our sorrow for our comrade.
The single red rose in the vase –
Signifies the blood that many have shed in sacrifice to ensure the freedom of our beloved United States of America. It also reminds us of the family and friends who miss them each day.
The vase is tied with a red ribbon –
Which represents the love of our country, which inspired them to answer the nation's call.
The slice of lemon –
on the plate is to remind us of the bitter fate of those who will never return or lost their battle at home.
The inverted wine glass –
As they cannot toast with us today.
The empty chair –
Because they are no longer with us.
The candle –
is reminiscent of the light of hope which lives in our hearts to illuminate their way home from their captors to the open arms of a grateful nation.